Welcome to the Buckskin Evangelical Church web site
Recent Posts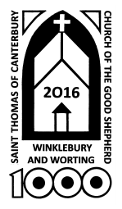 Please note that there will be no 9:00 and 11:00 services on Sunday 10th July. The 9:15 Communion Service will take place as usual.
Instead we will be helping St. Thomas of Canterbury Church, Worting, celebrate their millennium.
The millennium service will be in the marquee in the grounds of Worting House, starting at 10:30.