Welcome to the Buckskin Evangelical Church web site
Recent Posts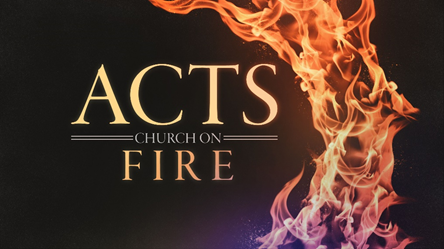 Sunday 4th September to Sunday 4th December
This series will work through the whole Book of Acts chapter by chapter. The aims of the series will be the following:
To see how God worked in and through the early church.
To understand how God formed and built His church in the first century.
To see and understand the crucial importance and dynamic of the work of the Holy Spirit.
To see how the church impacted the world around them.
To reimagine the life of our church in the light of the whole book.
To hear what God is saying to His church in the 21st century.
To apply the Biblical principles and lessons from the book to the life of individual believers.
To see the 'Fire of God' ignite His Holy Spirit in Buckskin church.
We will be cover all twenty-eight chapters. The first 13 chapters will be covered from September to December.
Sunday 4th September, Chapter 1 – 'Power to Go'
Jesus promises the Holy Spirit to empower us to be His witnesses
Speaker: Will Ross
Sunday 11th September, Chapter 2 – 'The Coming of the Spirit'
The Transforming Power of the Holy Spirit
Speaker: Erin Allen
Sunday 18th September, Chapter 3 – 'The Miracle & the Messiah'
The Expectation that God will heal and the Explanation of why and how.
Speaker: Peter Lane
Sunday 25th September, Chapter 4:1-22 – 'No Other Name'
Salvation is in Christ Alone
Speaker: Mark Thomas
Sunday 2nd October, Chapter 4:23-31 – 'Fear and Wonder'
The power of the church when it prays
Speaker: Whitney Adshead
Sunday 9th October, Chapter 5 – 'Stand and Deliver'
Standing Up and Speaking Up for God
Speaker: Will Ross
Sunday 16th October, Chapter 6 – 'Stephen – Man of the Spirit'
A character study of Stephen
Speaker: tba
Sunday 23rd October, Chapter 7 – 'Lessons of the Past'
Look at Stephen's testimony and understand God's plan of salvation
Speaker: Bob Smith
Sunday 30th October, Chapter 8 – 'Philip The Evangelist'
A character study of Philip the Evangelist
Speaker: Will Ross
Sunday 6th November, Chapter 9 – 'Saul's Conversion'
The conversion of Saul
Speaker: Will Ross
Sunday 13th November, Chapter 10 – 'Salvation for All'
The Gospel for all – God opens the door to the Gentiles
Speaker: Phil Norris
Sunday 20th November, Chapter 11 – 'Barnabas The Encourager'
A character Study of Barnabas
Speaker: Will Ross
Sunday 27th November, Chapter 12 – 'Jail Break'
To see the power of prayer and how chains can be broken
Speaker: tba
Sunday 4th December, Chapter 13 – 'On Mission#1'
To understand how the church went out on mission
Speaker: Will Ross